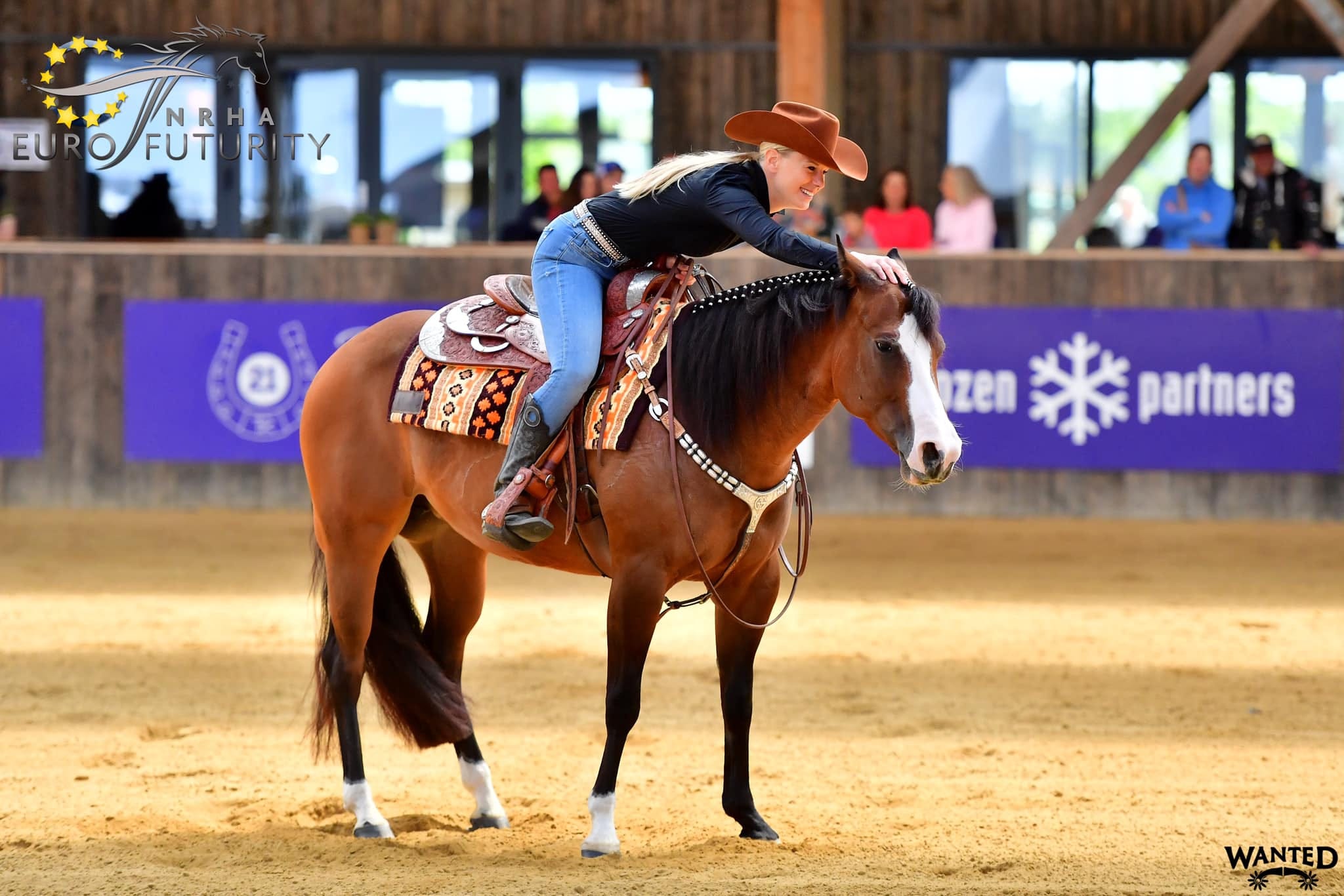 We make your prospect becomes unique!
Our program makes that your horse becomes more safe and willing to do the best it can.
Our trainers have a huge knowledge for starting and following young and older horses until they are ready to show.
A perfectly matched team with passion and love for horses at the Grey Stone Ranch

Girinon Perfomance Horses stays for excellent training, coaching and showing of Reining Horses. Togehter with one of the most modern facility, it's the perfect match to train and show horses at best possible conditions.
Arnaud Girinon is one of the top 15 trainers in Europe and is NRHA Open World Champion.
He always try to bring the best out of the horse, with a lot of respect for the animal.
He's coaching successfully the Non Pro's for more than 5 years. He respect the level of each rider an try to bring the horse and rider together.
LOVE THE ANIMAL FIRST-SPORT SECOND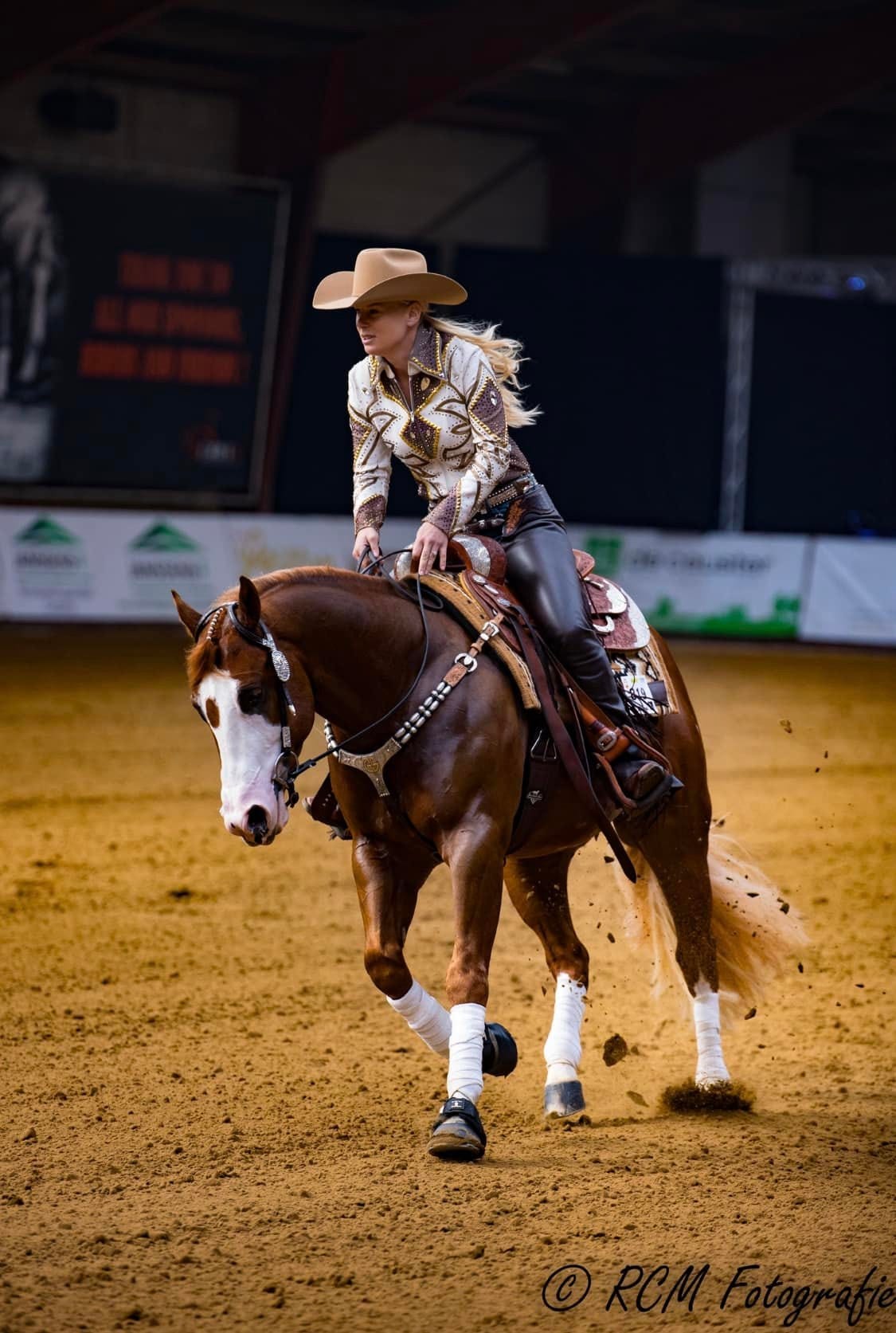 Our indoor arena is 35 x 70 meters which is connected to our outdoor arena of 40 x 80 meters. That makes Europes longest run down/in training facility!
The covered round pen is 18 meters diameter, perfect to start young horses or make horses moved in a save place.
We have 16 pastures for our sport horses with a size of 1'400 sqm.
The covered walker is made for up to 8 horses.
The main barn hosts 33 boxes with the size of 4 x4 meter with an attached paddock 4 x 6 meters. Additional we have a separate barn with 10 boxes 3.5 x 4 meters, and each with an attached paddock from 3.5 x 6 meters. This barn have an extra wash place and tackroom. A perfect place for clinics, outside trainers or costumers who stay over the weekend.
The 15 broodmares boxes are 5 x 7 meters with an attached paddock from 7 x 6 meters. Normally the broodmares are out side on our 7 hectares pasture, but for vet control or birth we bring them in the broodmare boxes.


inkl. taxes

Traininghorse, inkl. daily pasture or walker 605.00 €
Broodmare, inkl. grooming 308.00 €
Weanling/Yearling, inkl. grooming 308.00 €

not included is ferrier, hoof care, supplements, vet and transport
inkl. taxes

Full Training 5 times a Week 500.00 €
Half Training 2-3 times a Week 300.00 €
inkl. taxes
Solarium for free
Excel-Q 25.00 €
Junior Vital 30.00 €
Equitop Myoplast 80.00 €
Steam Therapy 5 times a week 150.00 €
Hofmag treatment 2 times a week with 30 min 150.00 €
Ice Cooling 5 times a week 150.00 €
Aquatrainer 2 times a week with 20 min 300.00 €
exkl. taxes

cost per day 70.00 €

includes coaching, muck out, feeding, tackroom, hotel of trainer & groom, food for trainer & groom, fixing lost shoes, using of cooling machine, trockenmax, equisage, flexineb, hofmag, wraps, boots, tapes, rubbers, blankets, coolers, bits, drinks & candys, coffee, shoe cleaning, horse fan
we have different transport possibilities aviable